Restoration on front main window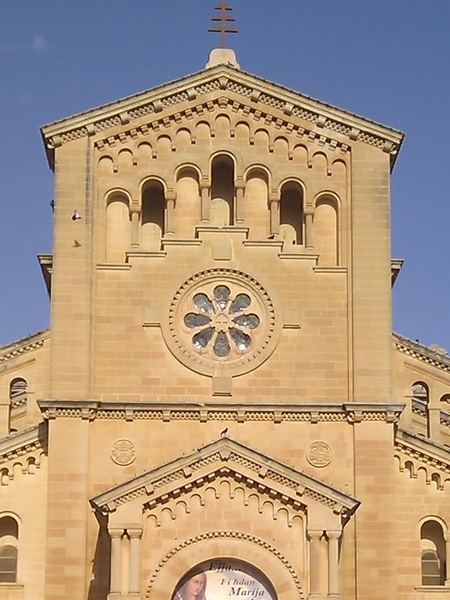 The main window known also as 'The Rose Window' which decorates the facade of the Ta' Pinu Sanctuary and which was made in Germany in 1931 is a beautiful piece of stained glass artistry. It has been subject to the elements for the last eighty years or so. Therefore the need was being felt to have it restored.
The Sanctuary embarked on the restoration process of this main window on its Neo-Romantic façade, almost a century old. The large stained glass window is made of eight parts, each a metre high and containing not less than eighty pieces of glass. The restoration was carried out by Mr Joe Meilaq, who also restored the dome windows.
The window is made up of eight panels and each one of them is about 1.70 metres wide. The stained glass is made up of 760 pieces of glass. Each glass was brought out the iron holders and cleaned and then put back again on galvanised frames through a different technique. The broken pieces of glass had to be changed. For better protection, a protective piece of glass has been applied on every panel. The work of restoration was undertaken by Mr. Joe Meilak, teacher of stained glass at the Wistin Camilleri School of Arts in Ghajnsielem. The general public was invited to observe personally the restoration process on Sunday 12 August 2012, when Mr Meilaq gave an explanation of what it entails to restore a stained glass window of that size. The work took more than 343 hours and it is a work that asks for much patience and dedication. The project was undertaken as a joint effort by the Ta' Pinu Sanctuary and the Ministry for Gozo.
As the work was proceeding, various other difficulties arose. It became clear that damage had been done to the facade of the church, the arch of the organ and even in the portico. The work of restoration in this part of the church is thereofre still underway. More financial aid will have to be found in order to cover all the expenses for the resoration of this part of the Basilica since this latter project is not covered by the previous project
We are therefore appealing to all those who hold dear the Ta' Pinu Sanctuary to help through their contributions in order to cover the expenses involved in this resoration work.