Traditional Hymnal Prayer to the Blessed Virgin Mary of Ta' Pinu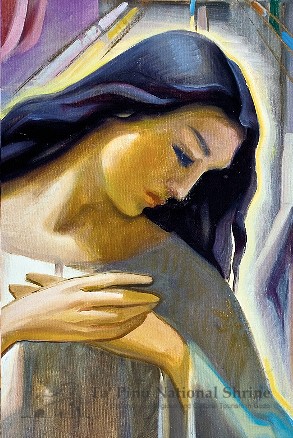 Hail to thee, O Blessed Virgin,
joy and glory of all men,
thou are happiness to the angels,
pearl of joy within God's plan.
Hail Mary...
As we are here assembled
in your cherished sanctuary,
keep within your reach our bodies
that we may keep near thee.
Hail Mary...
Malta and Gozo, these two islands
upon which you looked with love,
may you always keep them faithful,
strong in hope and pure like dove.
Hail Mary...
O Great Mother, full of mercy,
from the heavens where thou art
keep us free from sin and evil,
render holy every heart.
Hail Mary...
We your children, poor and weeping,
your voice docile, pure, have heard,
we have come in crowds, in wonder,
to this place of joy unheard.
Hail Mary...
If we look upon your picture
our hearts jump with gladness pure,
we behold from here the glory
that in heaven will endure.
Hail Mary...
Blessed Mary, remain with us,
show us Christ your only Son,
fill our hearts with tongues of fire
that his will may now be done.
Hail Mary...