Come, come...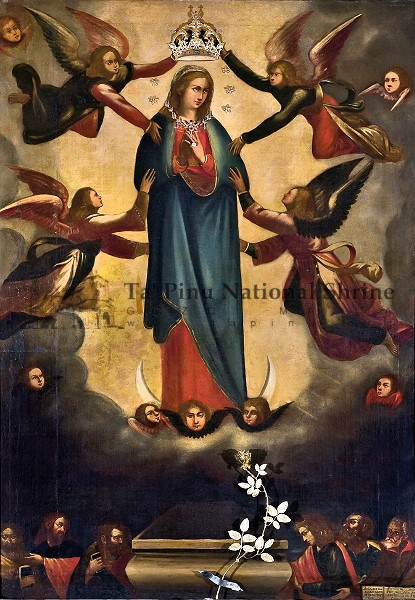 "One June day in 1883, KARMNI GRIMA, a forty-five year old spinster from Gharb, daughter of Tumas, was returning home, from the fields, in the vicinity of ?ordan Hill, praying silently as she walked. It was about 10 o'clock in the morning. When she arrived at the junction leading to Ta' Pinu Chapel, she was summoned by a voice, calling her three times:
"COME! COME! COME!"
Karmni was astounded, because at that time of the day, the fields were deserted and no one could have possibly spoken to her. After a moment's hesitation, she resumed her way homebound but the same mysterious voice beckoned her once again
"COME, COME, TODAY, BECAUSE A YEAR WILL HAVE PASSED BEFORE YOU WILL BE ABLE TO VISIT THIS PLACE AGAIN".
She retraced a few steps, took the forked path and approached the chapel in awe and trepidation figuring that she would see the Blessed Virgin alive.
On approaching the chapel, without opening the door, she peeped through the little aperture in the door pane but saw no-one therein. Recovering her composure, but still uncertain nonetheless, she entered the chapel and as she prayed, a feeling of ineffable rapture gripped her. Over her prayers the same voice addressed her again:
"RECITE THREE HAIL MARYS IN REMEMBERANCE OF THE THREE DAYS DURING WHICH MY BODY LAY IN THE TOMB".
With ardent devotion Karmni recited these three Aves and left for home. In the following year for some reason or other, she was kept back from returning to the chapel" [the story as related by Mgr. Farrugia].
For two years Karmni said not a word about what had happened. Then she disclosed her secret to FRAN?ISK PORTELLI; a man of probity and uprightness who was renowned for his devotion to Our Lady of Ta' Pinu. Fran?isk listened in silence as his heart filled with joy.
On another occasion, however, prompted by Karmni, whether he too, had heard any mystifying voices in the chapel, Fran?isk gave a positive answer. He had been recommended,
TO VENERATE CHRIST'S HIDDEN SHOULDER WOUND SUSTAINED UNDER THE BURDEN OF THE CROSS ALONG THE TORTOROUS PATH TO CALVARY.
It was obvious that the matter could no longer be kept secret and rumours that Our Lady of Ta' Pinu had given her message to two persons from the village of Gharb began to spread like wild fire. In the meantime, the number of people who visited the Sanctuary, was increasing steadily." (Bishop Nicholas J. Cauchi, "Ta' Pinu Shrine. The Pilgrims Haven", 2nd revised and edition, Ta' Pinu Publications, Gozo, Malta 2008, pages 39-42).
From that time onward this lonely chapel of Ta' Pinu became a place of pilgrimage for many people on the island and beyond.
Here we have to mention the two great pilgrims of Ta' Pinu, Saint John Paul II (May 1990) and Pope Benedict XVI who on the 18th of April 2010 presented a golden rose to Our lady of Ta' Pinu.
On the latter occasion Pope Benedict said: "I am aware of the particular devotion of the Maltese people to the Mother of God, expressed with great fervour to Our Lady of Ta' Pinu and so I am pleased to have the opportunity to pray before her image [...]. I am also delighted to present a Golden Rose to her, as a sign of our shared filial affection for the Mother of God.
I ask you in particular to pray to her under the title Queen of the Family..."