Meditations for the Via Crucis - Fourteenth Station
Jesus victorious over death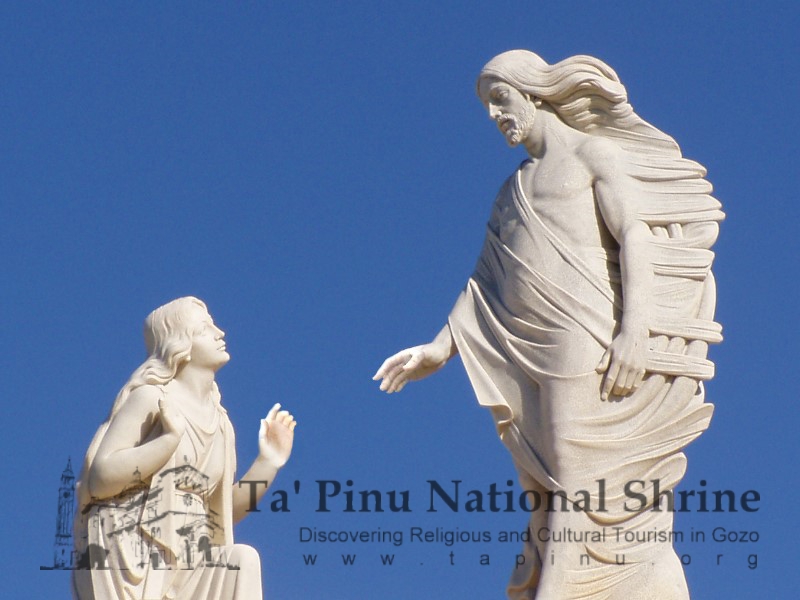 | | |
| --- | --- |
| Reading from the Gospel according to John | (Jn 20: 14-17) |
She turned round and saw Jesus standing but she did not know that it was Jesus. Jesus said to her: 'Woman, why are you weeping? Whom do you seek?' ...Jesus said to her 'Mary'. She turned and said to him in Hebrew: 'Rabboni!' which means Teacher. Then Jesus said to her: 'Do not hold me for I have not yet ascended to my Father; but go to my brethren and say to them, I am ascending to my Father and your Father'.
Reflection
Mary of Nazareth, the conceived without sin,
Was chosen by God that the Son of God may take flesh like us and we may find Life in him.
Now Mary of Magdala, she whose sins were many and was forgiven,
because she loved a lot (Lk 7: 47),
Now has been chosen by Christ that she may be the one who would announce that
Christ is alive, victorious over sin and death.
Prayer
Holy Mary, thou art the first one among us all to enjoy the glory of Christ
Victorious over death.
Thou art present in the glory of Heaven with body and soul!
From Heaven where you abide, turn your eyes of mercy towards us
Show us that you are our Mother and protect us
That like you we may keep our eyes fixed on heaven.
Silence.....Our Father, Hail Mary, Glory be
Blessed is the Passion and Death of Our Lord Jesus
O Lord have mercy on us and grant us forgiveness of our sins
We adore you O Christ and we bless you.
Because by your holy cross, you have redeemed the world.