Ta' Pinu Shrine - The Pilgrims' Heaven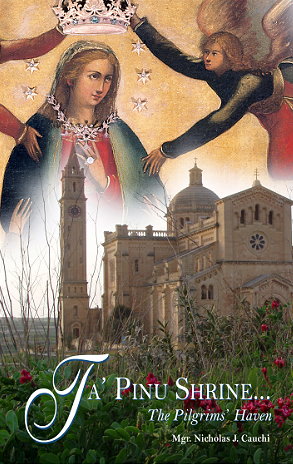 In 2008 the late Mgr. Nicholas J. Cauchi, the bishop emeritus of Gozo gave us one of his latest literary works: Ta' Pinu Shrine...The pilgrim's haven. In this publication he gave us the history of the Sanctuary of Ta' Pinu. The present volume covers the entire period from the early foundations of the little chapel in the western Gozitan countryside to the present age. Ta' Pinu Shrine. The pilgrim's haven has just been published by the Ta' Pinu Publications at the end of the 125th anniversary year of Our Lady's Call; it focuses especially on the coronation celebrations at Ta' Pinu presided by the Pope's personal legate Benedictine cardinal Agostino Lepicier and the visit of the first Roman Pontiff ever, John Paul II, in May 1990, when he added a few golden stars to the ancient picture depicted by late Medieval painter Perugino. Bishop Cauchi manages to narrate the history of the Ta' Pinu sanctuary while putting it into the wider context of the development of the new diocese of Gozo which was established in 1864 by pope Pius IX.
This volume of 152 pages is available in paper-back at the price of €7.