Restoration of Għammar Hill niche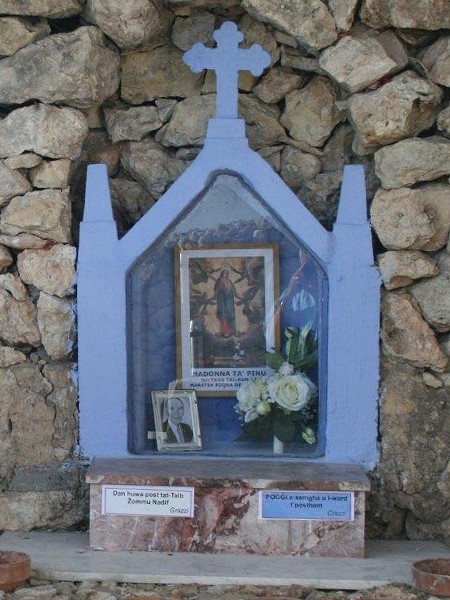 The Għammar Hill in front of the Ta' Pinu Sanctuary is known among many because of the statues of the Via Cruxis and in fact it does attract many pilgrimages especially during Lent.
But before these stations were erected, during the lifetime of Frenc tal-Għarb, this hill was the place where this holy man used to spend time in prayer and meditation. Many times he organized groups of prayer on this hill. He also erected a wooden cross which today is to be found next to his burial place in the Basilica. It was Frenc who worked hard so that the Via Cruxis would eventually be erected on the hill facing the Sanctuary, a dream which came true after his death.
Because of this, among the rubble walls on the hill, there is a niche containing a image of the Blessed Virgin Mary of Ta' Pinu which is a continuous reminder that this place was so dear to Frenc.
Unfortunately, during the last days of April 2012, this niche was put on fire during the night between the last Saturday and Sunday of the month due to vandalisation. The photos feature this destruction.
Immediately the Rector of the Sanctuary ordered that it may be restored back to its previous condition so that it would serve once again as a place of prayer and meditation.
We therefore appeal to all visitors to this holy place that order and cleanliness should be respected; it would ideal if all pilgrims put a candle and some flowers on the indicated spot.